Obituary for Rebecca "Beci" Morey (Bickar)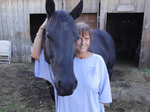 Rebecca June Bickar Morey
Beci was born December 22, 1954 and passed away unexpectedly March 14, 2013. Beci led an amazing, active life filled with friends, family, and of course her animals.
As a child, she lived in Sitka and Yakutat Alaska. She attended Hoquiam High school and graduated from Aberdeen High school in 1973. She lived in Olympia, Reno, Nevada and Fairbanks Alaska. Moving back to the Harbor in 1982, she married John Parsons. They divorced 14 years later. Beci worked as an Operations Administrator for Port Blakely Tree Farms in Tumwater from 1999 until she retired in February of 2013. Beci married Shad Morey on March 22, 2007. They resided in Elma and were actively involved with the Grays Harbor Mounted Posse.
Beci is survived by her loving husband, Shad, daughter Sybil (Trevor) and grandson Cash. Step- children, Mackenzie and Hayden, her mother, Marie, sisters Laurie(Michael) and Peta (Shawn), brother Booka, and half sister Debbie. Dogs- Pig, Brown Dog Bailey, and 5 others plus numerous horses. She is preceded in death by her father Bob and Coco her dog. A celebration of life will be held Wednesday 5:30 at Grays Harbor Pavilion. Beci touched so many lives in her short time here. She will be greatly missed, but never forgotten. In lieu of flowers, donations can be sent in her name to PAWS of Grays Harbor.



Order Flowers