Obituary for Jonathon "Jonny Favs" Favro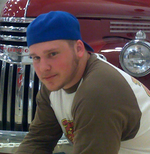 Jon "Jonny Favs" Favro

Jonathon Michael Favro was born on October 12, 1989, in Centralia, Washington, to Jack and Carla (Johnson) Favro. He went to guard the gates of Heaven on July 14, 2012, in Hoquiam, Washington.
Jon grew up in Aberdeen, attending AJ West, Miller Jr. High and graduating from J.M. Weatherwax High School, Class of 2008, and Grays Harbor College in 2011 with his degree in Criminal Justice, looking to follow his longtime dream of becoming a police officer.
Football and family are what Jon lived for. He played left lineman for the Aberdeen Bobcats, lettering all four years of high school and full back for the Grays Harbor Bearcats in the 2010 season. Jon and his dad had a tradition they started when he turned 5 that they would go to a Seahawks game every year on his birthday.
He loved going shooting with his friends; big bonfires; spending time with his family, especially his brothers and sister; music; writing raps; cooking and peanut butter.
Jon lived in Aberdeen from the age of 5 until his passing, except for the year following high school when he moved to Great Falls, Mont. to live with his aunt.
He worked for KFC and Walmart in Aberdeen; Casa Mia in Hoquiam; Dominoes in Great Falls, Mont.; and had been hired in March 2012 at Washington Corrections Center in Shelton where he was a Corrections Officer.
Jon was a member of the Teamsters Union #117 and attended Harbor City Church and Christian Missionary Alliance.
Jon is survived by his parents, Jack and Carla Favro of Aberdeen; his siblings, Cody of Olympia, Jordan and Myah Favro of Aberdeen; grandparents, Carl and Pari Johnson and Joan Favro, all of Chehalis; as well as many aunts, uncles, cousins and friends. He was preceded in death by his paternal grandfather, H.B. Favro.
A private viewing for his family and close friends will be held from 12:00 to 5:00 p.m. on Wednesday, July18th at Harrison Family Mortuary, 311 W. Market St. in Aberdeen. A funeral service will take place at 1:00 p.m. at Stewart Field on Thursday, July 19th followed by a private family graveside service.
Memorial donations can be made in Jon's name to the Grays Harbor Bearcats, the Aberdeen High School football team or any local football program.



Order Flowers
Affiliations

Christian Cross

Grays Harbor College Chokers

Weatherwax High School Bobcats
The insignias listed here may be subject to copyright and / or trademarked. Those copyrights and trademarks are owned by the respective organizations.